Weiss Memorial Hospital has proudly offered quality and personal health care services to Chicago's North Side since 1952.
A Message of Clarification for
Our Community
We would like to clarify any confusion caused by the large volume of notices you may have received concerning Pipeline Health's bankruptcy status.
Resilience Healthcare CEO
Grants First Media Interview

Read the Jan. 24 Wednesday Journal article featuring Dr. Manoj Prasad discussing an optimistic future for West Suburban and Weiss.
Weiss Cardiology Team Achieves
20 Consecutive Years of Accreditation in Echocardiography
The Cardiac program at Weiss has achieved 20 consecutive years of accreditation from the Intersocietal Accreditation Commission (IAC) in Echocardiography in the areas of Adult Transthoracic, Adult Transesophageal and Adult Stress.
Patient Portal
Our hospital knows how important your healthcare is to you – and we value your partnership in maintaining your good health.  We're excited to announce our new portal just for you!
Weiss and Edgewater Castle FC Announce
Sports Medicine Partnership
Weiss Memorial Hospital's Dr. Sebastian Ko named Team Physician.
Internal Medicine Residency Program Earns
National Quality Improvement Award
Residents' Research Posters also earn top spots from American College of Physicians' Illinois Chapter.
DAISY Program
Kicks Off at Weiss
Through a new partnership with the DAISY Foundation, nurses at Weiss Memorial Hospital who go above and beyond in their work may now be honored with the DAISY Award for Extraordinary Nurses®.
NEWS
What's Happening at Weiss?
Weiss Memorial Hospital is here for you and your healthcare needs.
Stay current with the latest tips, events, and resources from your local lakeside hospital.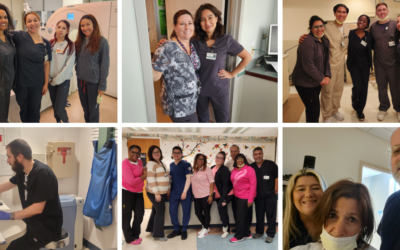 Radiology Technologist Week is observed during the first week of November each year to demonstrate the vital work of medical imaging and radiation therapy professionals...
Information and Resources
Your health and wellbeing are our priority. Here's everything you need to know to stay updated about the coronavirus pandemic.
Weiss Memorial
Uses 3D, Artificial Intelligence
Weiss Memorial Hospital's accredited Cardiology program is the first in Chicago—and second in Illinois—to implement new artificial intelligence-based cardiac technology in the care of heart patients.